Police Department
SIC Police Department
PUBLIC NOTICE

The Sea Isle City Police Department is scheduled for an on-site assessment as part of its program to achieve accreditation by verifying that it meets recognized professional best practices.

Administered by the New Jersey State Association of Chiefs of Police, the accreditation program requires agencies to comply with best practice standards in five basic areas: the administrative function, the personnel function, the operations function, the investigative function, and the arrestee/detainee function.

Agency employees and the public are invited to offer comments by calling (609) 602-0331 on Monday, May 22nd, 2023 between the hours of 10:00 AM – 11:00AM. Comments will be taken by the Assessment Team. Email comments can be sent to the police department at agarreffi@sicpd.us

Telephone comments are limited to 5 minutes and must address the agency's ability to comply with the NJSACOP standards. Please contact Chief Anthony Garreffi Jr. at (609) 263-4311 for more information.

Anyone wishing to submit written comments about the Sea Isle City Police Department's ability to comply with the standards for accreditation may send them by email to Harry J Delgado, Ed.S Accreditation Program Director, hdelgado@njsacop.org, or write to the New Jersey State Association of Chief's of Police, Law Enforcement Accreditation Commission at 751 Route 73 North, Suite 12, Marlton, N.J. 08053.
Emergency: 911
Non-Emergency: 609-263-4311
The Sea Isle City Police Department is currently accepting applications for  SLEO Class I and Class II for the summer. To apply click here or scan the QR Code below.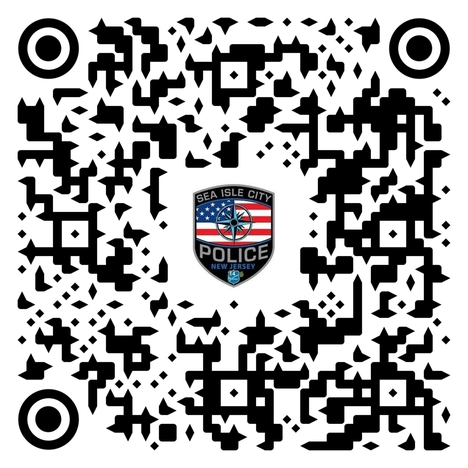 On behalf of the men and women of the Sea Isle City Police Department, I'd like to welcome you to our web-page.  Whether you are fortunate enough to call this beautiful island home or you are here for a short stay, we hope you find the information provided on this page helpful.
I'm honored to have the opportunity to lead the brave and honorable Officers of the Sea Isle City Police Department in providing you exceptional public safety. It is our mission to ensure the safety and well-being of all those who live, work, visit and play in this community. Citizens will play a major role in the success of this mission, and I encourage everyone's involvement and input not only for the purpose of reporting crime but also to establish moral and professional standards that ensure fairness, transparency and accountability. As the Father of Modern Policing, Sir Robert Peel, said in the early 1800s, "The community are the police, and the police are the community."  This still holds true today.
If you need to speak with me, I can be reached by office phone at (609) 263-4311 Extension 2307 or by email at agarreffi@sicpd.us.
Best Regards,
Chief Anthony Garreffi
Tips
There are a few options when it comes to reporting crime TIP information to the police department.
Active Crimes and Emergencies must be reported to dispatch by calling 9-1-1.
can be directed to (609) 263-4311. As always, all information will be kept confidential.
Remember, if you see something, say something!
We thank you in advance for helping us keep our town safe.

Tip 411
Got a tip? Report it anonymously to the Cape May County Sheriff's Department.